Marxism is an all-purpose theory, applied in all humanities departments and now even in the sciences and math.
All you have to do is pour in some Marxist theory, stir with a few chunks of postmodernist update, season with contemporary political clichés, and you have a recipe for an article in the most prestigious journal in your field. I have no doubt that it is even being used in some of our culinary schools.
Sociologists, particularly, like this culinary approach when trying out new recipes.
Over at the Chronicle of Higher Education, resident sociologist Laurie Essig from Middlebury College (author of the classic, American Plastic: Boob Jobs, Credit Cards and Our Quest for Perfection) weighs in on the pressing issues of the day, recently la affaire de la penis--or Anthony's Weiner's Internet exhibitionism.
Dissident Prof is disappointed that the American Public has focused more on this small member of Congress rather than on his attempts to shut down Glenn Beck, his ridicule of Michelle Bachman as "getting messages from the mother ship," and his unhinged and misleading speech on the 9/11 health responders bill.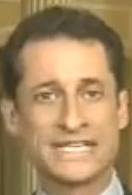 WeinerNevertheless, special panels have been convened on cable news regarding the big question, "Why?"
The scandal has inspired "special reports" on sex and politics—and the inevitable sex addiction. An appropriately endowed female "sexpert" was even interviewed on the Fox Network. The woman had a Dr. in front of her name and was a former columnist for Penthouse. These therapists, experts, and sexperts gave reasons ranging from the "quest for power," to "the need for affirmation," to "high levels of testosterone" (which seems to afflict politicians particularly). Dissident Prof, if anyone had bothered to ask her, would say that there is no such thing as "sex addiction." The suitable treatment for Mr. Weiner would not be "therapy," but some time doing real work, like spreading asphalt on Georgia roads in July, picking tomatoes in Florida, or even mixing up a Skinny Caramel Macchiato in his own district.

Professor Essig, however, blames the bourgeoisie culture that privileges "discipline." Of course, it was the aura of "discipline" that illegitimately granted President George W. Bush ("Dubya" to Essig) the aura of being the better man for the job of president than Bill Clinton. George Bush, because he displayed sexual discipline by refraining from an illicit affair, gave the impression of being a disciplined person.
What is wrong with discipline? It is connected to the "work ethic" the defining trait of the middle class, or bourgeoisie as Essig refers to those who pay tuition and taxes. The bourgeoisie are the "right wing." The fact that discipline is a much lauded trait of Western culture is all the more reason for scholars like her to put it under scrutiny or "interrogation," as they like to say.
Essig brings the Marxist analysis up to the present: "This claim that the right to rule is based on discipline—particularly bodily discipline—has become even more pronounced now, in our own age, when we can see not just evidence of discipline but when anything and everything about public figures is known long before it is admitted."
This inability to adhere to the bourgeoisie value of discipline brought down a good progressive, someone "unafraid to stand up to the right-wing assault on workers and seniors," as Essig describes Weiner.
This brings Professor Essig to the big question that has been consuming our news outlets. Everyone knows that whatever you post online is sure to become public at some point. "What boggles the sociological imagination [she muses] is, Why? Why would anyone destroy his career and perhaps even some of those around him for sexual pleasures that did not even involve actual sex?"
She leaves the question open, surely for some conference panel in the future, even as soon as this August when the American Sociological Association convenes. No doubt the name of Weiner will come up in the Plenary Session titled, "The Changing Landscape of Sexual Politics [in the Age of Obama]" (brackets retained). One wonders if Essig's analysis of "discipline" will enter the conversation about the paper, "Marxism after Communism," by "senior scholar" Michael Buraway at the opening plenary session.
Dissident Prof also learned from the program that sociologists will apply their powers of analysis to life on college campuses. A table on "Gender and Sexuality on College Campuses" will investigate college hook-ups, with a paper titled, "The Influence of Gender and Virginity on Hooking Up on College Campus." Several tables, though, will fall under the topic of "Doing Gender" (this novel pairing of verbs disturbs the Dissident Prof greatly).
One of these will feature the following papers: "'Shut Your Damn Mouth!' Emotion Management, College Football and Hegemonic Masculinity" and "For Those About to Rock: Gender as Instrument in Rock Band."
One paper at a table called "Gender and Intimate Relationships" also piqued Dissident Prof's curiosity. It is titled "Getting Laid and Finding God: Constructions of Masculinity in Relationship Advice for Heterosexual Men."
But back to the particular sociologist under question. Essig ends on a note of hope for Weiner by hinting at an opportunity like the one Eliot Spitzer enjoys at CNN. There is always life after the oppressive bourgoise ruin your political career. Dissident Prof has faith that a place will be found at a sociology conference where Mr. Weiner can speak about how the insistence by the right-wing bourgeoisie that he exercise "discipline" is an assault on senior citizens, first responders, underprivileged children, sociology professors, and all the other proletariat who no longer have the benefit of his representation in our hallowed halls of Congress.