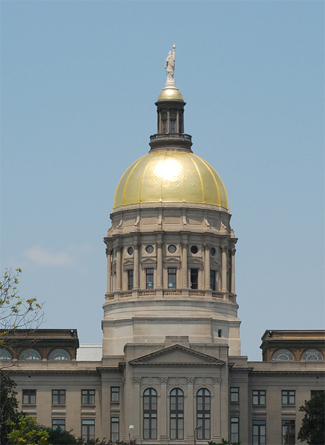 Georgia Gold Domeby Mary Grabar, March 20, 2012: My testimony before the Georgia House Judiciary Committee on behalf of SB 458 that would in part deny illegal aliens the public benefit of attending Georgia public colleges and universities: I testified regarding what I heard at the "Teach-In on Tucson," my previous post.
You can see the video here. Go to March 19, 2012 (the date of the hearing). The testimony on 458 begins about halfway through, so you may want to fast forward. My testimony begins around the 2:12 mark. Interesting things then happen when a "Teach-In" participant does not like what I'm saying.
Around 2:17 after questioning, you will hear the chairman Rich Golick reprimand someone in the audience. The audio is low at this point, and you may not be able to make out what is being shouted out. It's someone from the illegal alien lobby. I sat behind her as I waited to testify. Every time someone used the term "illegal alien" she made a loud noise. What she was shouting as I finished up my testimony was that I was a liar, that she was there at the "Teach-In."
Also quite interesting that one of the committee members, Roberta Abdul-Salaam, asks Jerry Gonzalez, Executive Director of GALEO, Georgia Association of Latino Elected Officials, whether he can help her find legal representation for an illegal alien in her district. That occurs around the 2:17 mark. Right before me is a fire and brimstone sermon by a public school teacher comparing legislators in favor of SB 458 to Governor Fabus and Pontius Pilate. He apparently is a regular, for he was warned to keep it short. He was also asked to lower his voice. Never a dull moment under the gold dome.
Read this very good column by D.A. King.
See the video before you read the article in the Atlanta Journal-Constitution. It will make for an interesting comparison. (The crying illegal alien is an old picture.)