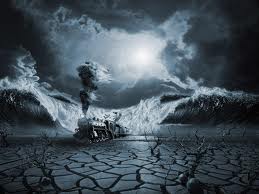 All aboardAfter experiencing government-run travel on Amtrak for 13 hours, with three overnight naps in a sitting position, Dissident Prof arrived at Union Station in Washington, D.C., around 9:30 a.m. on Wednesday, February 8, to experience her first C-PAC.
Yellowstone National ParkNo Hunting or Fishing Allowed...Another offering by Scott Herring, UC-Davis
Last summer, returning from a trip to Greater Yellowstone, I was sitting in a cramped Alaska Airlines puddle jumper, thumbing through the in-flight magazine out of simple boredom. What I found was so memorable that I stole the magazine, and still have it. Here was direct evidence of subject I have been thinking about often for some years: how environmentalism has ceased to have anything to do with the environment, and everything to do with making its upmarket leftist supporters feel good about themselves.
Protestors Who MatterDissident Prof notes Time Magazine's celebration of the Protestor by its designation of the Protestor as the Person of the Year. Some Protestors, however, are more equal than others and the U.S. media turned its gaze on the Protestor from one of the most pampered and flattered groups in history: the American college student, who ostensibly were inspired by protests in the Middle East. The equally self-flattering media, however, little noted the assault on Poland by the communist leftovers. Ewa Thompson, Professor of Slavic Studies, here brings us up to date on the alarming developments.