Fred V. CherryPosted February 25, 2016, by Mary Grabar: While PBS was releasing its whitewash of the Black Panthers and spoiled college students were protesting because of imaginary slights put out by Black Lives Matter, a true American hero passed away. I had never heard of him, but came across this story in the Washington Post that begins,
Fred V. Cherry, an Air Force fighter pilot, was downed by enemy fire over North Vietnam in 1965, and he spent more than seven years as a prisoner of war.
Read more: Black History Month 2016: Celebrating American Heroes
Happy New Year!Posted December 30, 2015, by Mary Grabar: We close out the year with more protests and demands than ever, as our intellectuals engage in more and more "conversations" about race. The protests spilled over to restaurants and shopping venues, even as Americans celebrated Christmas. The incubators are the schools and college campuses, where students are taught about injustices invisible to the common man. Textbooks offering lessons for deep classroom discussion include the sociology textbook, Color Lines and Racial Angles, published by Norton. It includes such thought-provoking gems as "Asian American Exceptionalism and 'Stereotype Promise,'" "The Fascination and Frustration with Native American Mascots," "White Trash: The Social Origins of a Stigmatype," and "Thinking about Trayvon [Martin, of course]: Privileged Responses and Media Discourse."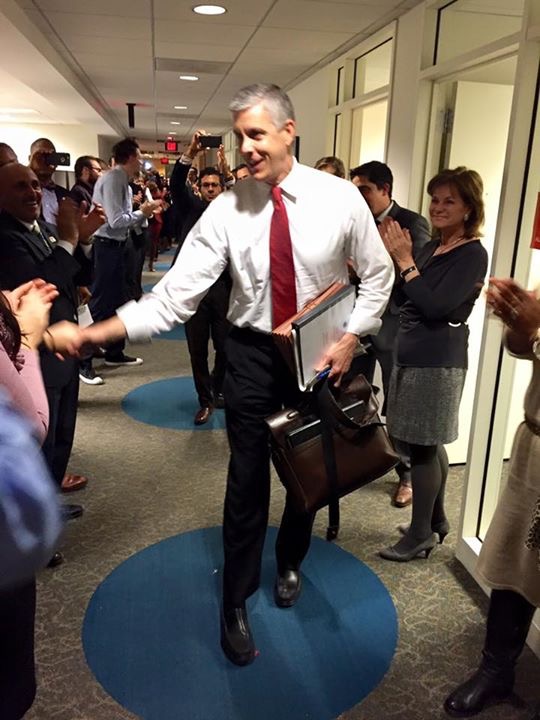 Mission Almost Accomplished, Arne DuncanDec. 22, Updated: Deadline for public comment exended to JANUARY 4, 2016: If you missed the deadline for telling the government what you think about government-run "family engagement" (in the post below), you still have time. The deadline has been extended to Jan. 4. Comments on the Draft Family Engagement Statement should be emailed to This email address is being protected from spambots. You need JavaScript enabled to view it. To read the draft and for more details please go here. Thanks to Mary Byrne, Ed.D., Missouri Coalition Against Common Core, for the heads-up. She adds that she and others are getting bouncebacks when they use non-Microsoft e-mail accounts:"only those [comments] processed through Microsoft are received by the government." Of course, Microsoft billionaire Bill Gates has pretty much bankrolled Common Core. Byrne set up an Outlook account to bypass the problem. REMEMBER: JAN.4.
Posted on Dec. 18, 2015, by Mary Grabar: The "Every Child Succeeds Act," signed into law on December 10, gave all the usual suspects in big government, teachers unions, multinational textbook companies, social justice warriors, and busybody non-profits wanting a piece of the universal preschool funding pie cause for celebration. Today, the Department of Education sent out a notice about taking "First Steps in Transition to New Law." The "Dear Colleague" letter embedded there is enough to chill the heart of anyone but the most dedicated bureaucrat. But if you dare, there is an invitation at the end of the announcement atbout two hearings in January on the ESSA law.
Outgoing Education Secretary Arne Duncan, expressed his pleasure at getting ESSA passed, but told POLITICO that his biggest regret was the lack of political action on gun violence (citing Sandy Hook). He promised that gun control would be something that he would "work on" in his as yet undisclosed future work.
In its passage, ESSA had all the transparency of the Affordable Care Act and Common Core, as I described in my article at the Selous Foundation for Public Policy Research, "Common Core by a New Name, and On Steroids." At the Federalist John Holland offers a great analysis of how many Republicans squandered their power on this. And Mercedes Schneider does a wonderful job of exposing the backroom shenanigans in her book Common Core Dilemma, which I reviewed. She, however, asked that I print a clarification of one of her points, which I do here:
Read more: Contraries: Duncan's Legacy: Community Schools, Parental Engagement