George WashingtonPosted February 16, 2015, by Mary Grabar: It's Presidents' Day. Which one? George Washington. (And in the north we used to celebrate Abraham Lincoln's birthday on his birthday as well.) The Dissident Prof would like to remind our political leaders of the proper duties and attitudes of a president, as opposed to a monarch, or a plutocrat, or a celebrity... Herewith, a passage from George Washington's Farewell Address addressed to Fellow Citizens:
Read more: Contraries: President's Day, Feelings for Valentine's, FREE College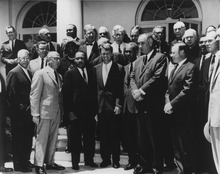 White House Civil Rights MeetingPosted January 23, 2015: by Mary Grabar: It was the Martin Luther King, Jr., national holiday last Monday, and "Prison Abolitionist"/Communist/Black Panther Angela Davis came and spoke on three campuses in Georgia and North Carolina and then pocketed a cool $20,000 for one of those speeches from the bourgeois taxpayers.  Former real model for the FBI's most wanted list spoke to an overflowing crowd at Kennesaw State University on Sunday.  Many in the community objected, but university officials predictably cited such high-falutin principles as academic diversity.  But there is nothing academic or scholarly about leading the audience in a chant of "No justice, no peace, no racist police," as the Marietta Daily Journal, reported. Her words of wisdom also included "And we also have to say to our friends in Europe, look at the example of the United States of America. Look at what happened in the aftermath of 9/11. Look at the fact that all over the country now, people who practice Islam are the targets of a racism that has been built on the histories of anti-black racism. And as a matter of fact, I think that black people in this country have a special responsibility to stand up and say 'no.'"
Renewal in the UniversityPosted January 16, 2015, by Mary Grabar: Dispatching from the Alexander Hamilton Institute, the charming building featured on the front cover of the John William Pope Center for Higher Education Policy report, "Renewal in the University:How Academic Centers Restore the Spirit of Inquiry."  The Alexander Hamilton Institute is one of these centers that offers a place for intellectual inquiry for Hamilton College students, scholars, and graduate students.  Each summer several Hamilton College students live at the Institute as interns; scholars and graduate students enjoy a month of research in the summer as Bakwin Fellows (as yours truly did in 2011); community members and high school teachers enjoy free evening classes, such as the one coming up, "Media and Politics," to be taught by resident fellow David Frisk; and scholars from various fields and political persuasions come together for conferences and colloquiums.  Jay Schalin reviews several of these centers, out of a total of about 150, that are located both on and off campuses.  Of AHI, he writes, "The Alexander Hamilton Institute for the Study of Western Civilization has shown that in today's world, no amount of opposition can keep valuable ideas off campus if a single faculty member is determined to have them heard."   You can read the report here.
Read more: Contraries: Renewal in the University, Angela Davis, APUSH