Posted March 2, 2019, by Mary Grabar: "Connecting People with Different Viewpoints" Yes, that is a real headline at the Hamilton College website.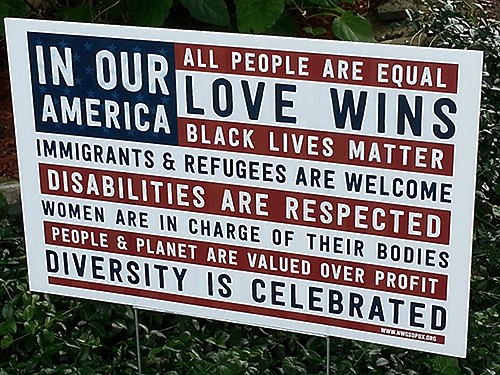 Hamilton College is teaming up with "public radio's StoryCorps on a new initiative, One Small Step, to solicit community members in the Mohawk Valley and Hamilton students who hold opposing views to participate in a one-hour, facilitated, recorded conversation to get to know each other a bit as people." This is to "focus on their common humanity, not their political differences."
Hamilton College is presumably very good at this because they have a track record in fostering such "conversations"—the much touted "Common Ground" series, wherein respectful dialogue between people of different political viewpoints was put on display for students and community members.
Dissident Prof went to the first one, a debate between Democratic strategist David Axelrod and Republican strategist Karl Rove. It was a saccharinely sweet Kumbaya encounter as the two joined hands in politely bashing the President of the United States.
Sweet sighs of agreement and friendly laughter rose from the audience as David and Karl, leaning towards each other in a display of good will, agreed that there has to be "an adult in the room." Eighteen-year-old fresh-persons were particularly amused by the witty repartee about Donald J. Trump and his knuckle-dragging supporters. The citizens of Clinton, New York, who display lawn signs welcoming all ethnic and sexual groups, here legally and illegally, except those wearing red MAGA caps (actual or virtual), breathed a collective breath of superiority. The word "Namaste" seemed to be on the lips of the Republican strategist, but I detected a sly look about the countenance of the man who, when he was ushering in Prince Barack Obama, was on the nightly news regularly defending his candidate from the slightest criticism, such as attendance at the church of Reverend "God damn America" Wright and association with failed bomber-turned education professor Bill Ayers.
But on that evening the feeling of Common Ground was so strong in that auditorium I thought the hundreds gathered might perform a group hug.
Now, Hamilton College is inviting applications for the "facilitated" interview:
The college is now seeking potential participants who are willing to share and listen to stories of life experiences that have shaped the political beliefs of another in recorded interviews facilitated by StoryCorps. All individuals – community members and students – who are interested in participating, must complete an online questionnaire. StoryCorps will match each participant with a corresponding individual based on their responses.
Alas, all this also comes too late for AHI alum and Hamilton Class of 2017 graduate Liz Barry, to participate. As editor of the student newsletter sponsored by Alexander Hamilton Institute, Enquiry, and author of "Treatment of Conservatives at Hamilton College" she would have had much to contribute to the "conversation."
The treatment consisted of having copies of Enquiry ripped up or stolen (a long-time occurrence).
The harassment became personal. She described it:
I began receiving anonymous notes in my campus mailbox demanding that I stop publishing "offensive and inappropriate" pieces. Unfortunately, this is nothing new. Nearly all of our previous editors have received similar – and in some cases far more threatening – messages just because they are conservative or libertarian and have published various pieces reflecting such views. Enquiry accepts all article submissions as long as they are well written and well constructed.
Well, that's not an ideal way to start a "conversation"!
And a "conversation" was needed more than ever during the 2016 election season:
In the days before November 8, my fellow Republicans and I were met with a barrage of animosity. Though many of us made it perfectly clear that Donald Trump was not our candidate of choice, professors, classmates, teammates, and even friends still singled us out for our continued support of the Republican Party.
It got very personal on Election Day:
On November 8, a number of instances occurred in which I was called a racist, bigot, and homophobe (which, for the record, could not be further from the truth). Once on that day, a male Hamilton student followed me – shouting insults – all the way along Martin's Way. . . .
Yes, this is a campus that gives detailed instructions for obtaining consent for a goodnight kiss.
Then, just when I thought things had finally calmed down, Inauguration Day rolled around and Republicans were once again the objects of torment by "liberals." I even received a particularly unprofessional, if not malicious, email from one Professor Katharine Kuharic in the Art Department – whom I have never met– in response to a message I sent notifying the Hamilton community about a public invitation to watch the inauguration at the AHI. Though my message contained no political opinion or indication that the event was meant to celebrate Trump's inauguration, Professor Kuharic deemed it appropriate to forward me an all-faculty email concerning the Women's March, appending the message: "you may want to discuss as the US inaugurates an illegitimate Russian puppet intent on destroying the constitutional rights to free speech, press, religious practice and birthright citizenship."
The "crisis response teams" all over campus did not respond, perhaps because like nearly half the country they themselves were contemplating slitting their own wrists because their anointed first female president lost the election.
Liz Barry described what the college administration did when she like a good student informed them of this all-campus harassment:
next to nothing . . . . I did not hear a single word from anyone other than the campus investigator who took my deposition on Election Day, and though I spoke with [Hamilton College] President Wippman after the Inauguration Day incident, it's clear to me that the administration would rather downplay any incidents than address them head-on. Imagine that, instead of me, all these things had happened to a student of color, or a student who identifies as being LGBTQ+. There would be a bias incident report and group counseling available to the entire student body.
As Dissident Prof can attest, this is a campus plastered with posters advising students that "bias response teams" await to help them.
And of course there is the case of scholar extraordinaire, Paul Gottfried, who met campus-supported protests and harassment from students for giving guest lectures on his field of expertise, European fascism. Dissident Prof was there and wrote about it in "Appearance of Paul Gottfried Sparks Disruptions at Hamilton College." Professor Gottfried defended his good name from the scurrilous charges made by adolescents whose knowledge base extends as far as using Google and the first thing it brings up, the Southern Poverty Law Center, as an authoritative source. It shouldn't have to be said that Professor Gottfried never "espoused racism or white supremacy." His article defending his good name is at the James G. Martin Center for Academic Renewal.
Professor Gottfried is not a Never-Trumper as Karl Rove is. That is why he will never be welcomed at the Hamilton College campus—certainly not for a Common Ground "conversation."
They couldn't even tolerate the sight of a student who was a Republican but not a Trump supporter.
So where is the Humanity? Why do certain segments of humanity not even feel safe on the Hamilton College campus?
That might be a good "conversation" starter, a first "small step," for a campus whose students indeed need to learn about how fascist movements begin.