Posted March 10, 2020: The Dissident Prof has been doing some traveling: Portland, Oregon: St. Louis, Missouri; Dallas, Texas; and here in Georgia where she is wintering in Atlanta, Fayetteville, and Athens. Here is the video of my talk at the Constitutional Coalition/Eagle Council Educational Policy Conference in St. Louis. Notices for three events next week follow an account of my talk at Portland State University by an impressive young man I met there, Brandon Smith, a recent graduate of that university and former student of Political Science Professor, Bruce Gilley, who as President of the Oregon Association of Scholars invited me to give the talk.
Leaving Our Children a Better Worldview by Brandon Smith
My curiosity about Howard Zinn began in my young adulthood in Portland, Oregon, during the mid-2000s when I had more access to motion pictures and music than I did to substantive scholarship. Good Will Hunting and NOFX's "Franco Un-American" both seemed to endorse Zinn's work as a proper starting point for cultivating one's worldview. Being concerned with my own capacity for democratic decision-making in the aftermath of the 2000 U.S. presidential election and terrorist attacks of 9/11, I took it upon myself to read Zinn's A People's History of the United States in hope of becoming a more enlightened citizen with a deeper understanding of what brought the world to that particular point in history.
Read more: Debunking Howard Zinn Portland to Atlanta Speaking Tour
Speaking Athens, GA, Eagle Forum, Thursday, February 6, 2020.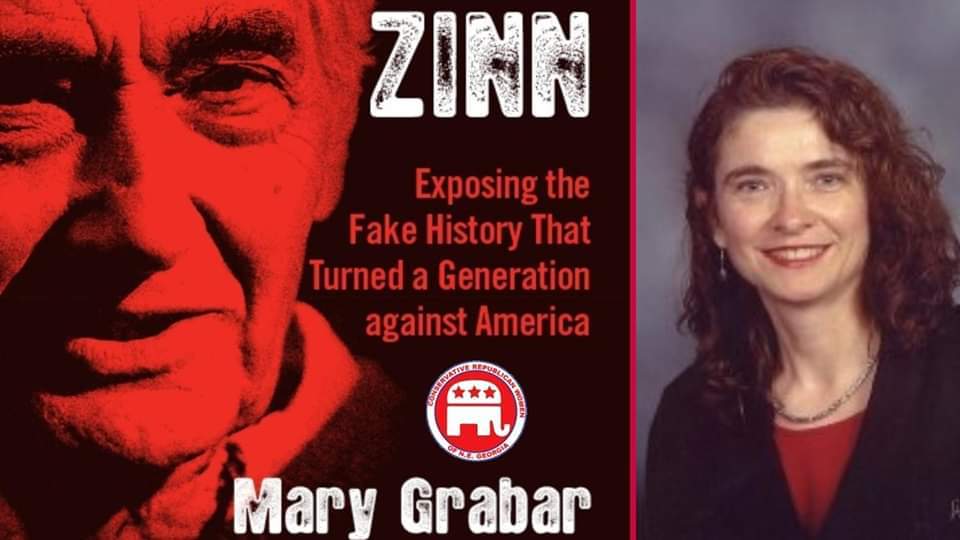 :The Smith House, 1760 Old Epps Bridge Road, Athens, GA
Professor and author, Mary Grabar, will discuss her recent book, Debunking Howard Zinn: Exposing the Fake History That Turned a Generation against America
Books will be for sale.
6:30 Refreshments
7:00 Meeting
CANCELLED DUE TO WEATHER
Posted November 25, 2019, by Mary Grabar: Announcing
Book Drive and Portland Talk, FOR IMMEDIATE RELEASE:
The Oregon Association of Scholars today launched a book donation drive to counter the fabricated and distorted history of Marxist radical Howard Zinn that has been adopted as an assigned American history textbook in many middle, high school, and college classrooms in Oregon.
Members of the public are being invited to purchase a copy of Dr. Mary Grabar's new book Debunking Howard Zinn: Exposing the Fake History That Turned a Generation against America (Regnery History, 2019) for donation to a public library or school in Oregon. They may also donate $25 to the OAS which will make the purchase and donation on their behalf.
"Educated Americans have always known of the mendacity of Zinn's so-called People's History of the United States," said Dr. Bruce Gilley, Professor of Political Science at Portland State University and chapter president of the Oregon Association of Scholars. "Now, with Dr. Grabar's new book, that mendacity is documented in chilling detail, showing the negligence and abuse of Oregon public school and college students forced to read it."
Read more: Save the Children from Howard Zinn, Speaking in Portland
By Zachary P. Wilson, Class of 2020, Grove City College; Posted September 23, 2019:
America is evil. The United States has been founded on genocide, slavery, oppression, and imperialism. President Ronald Reagan stated that the Soviet Union was the Evil Empire and now that it has collapsed, the new Evil Empire is the United States of America. These are the words of "historians" at schools and universities around the United States today; they make these claims from what history tells us. This is the reason I became a historian.
This revelation came to me while talking with a friend in junior high, and somehow the conversation of Native Americans and their role in American society came up (like what normal thirteen-year-old boys talk about in their spare time). I was surprised when he told me that America obtained our land by committing mass murder against the Indians, more specifically selling them smallpox-infected blankets in order to weaken them. I immediately thought to myself, "I don't remember hearing that in my history classes," but something also told me that this just did not sound right. I had to learn the truth. It was shortly after this event that I came across one of the figures I will never forget: Howard Zinn.
Read more: A College Student's Take on Howard Zinn's America-Is-Evil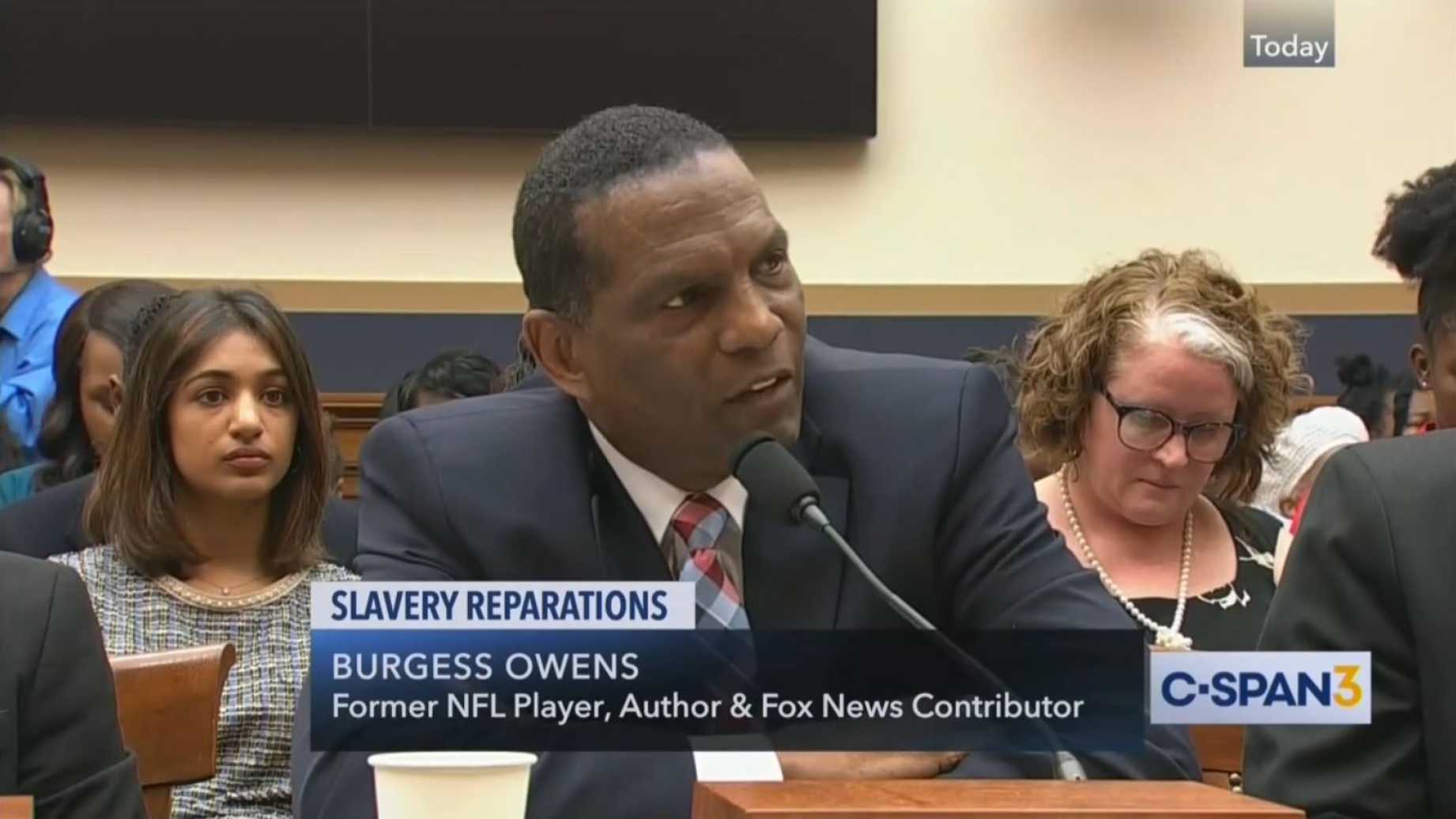 Posted by Mary Grabar, June 21, 2019: Alas, not one of the Democrats (or Republicans) at the House Judiciary Subcommittee on the Constitution, Civil Rights, and Civil Liberties Hearing on Slavery Reparations on June 19 seems to have read my article at FrontpageMagazine, "Reparations Madness." Had they done so, they would have learned that it was the Democratic Party of the FDR administration that instituted the New Deal programs that imposed federal segregation in government-made and financed housing (public housing, the FHA), and discriminated against African Americans in New Deal programs in farming, public works, construction, and Social Security. It was quite a contentious hearing, captured on C-SPAN, with statistics about "disparities" thrown around with great fervor, but no context, historical or otherwise. Nor was a mention made of the black owners of black slaves (in a surprisingly large number, as I pointed out). Instead, Democratic legislators and professors railed on about the "legacy" of slavery to Jim Crow to discriminatory New Deal policies to today.