Posted October 3, 2013, by Mary Grabar: Miffed by the fact that a layperson, like former Indiana governor and current president of Purdue University, would dare question any history book a history professor or education professor chooses--especially when that book is by the late communist "historian" Howard Zinn--a bunch of professors are organizing a "read-in" of Zinn's bestseller A People's History of the United States at Purdue University and other places on November 5, the birthday of socialist Eugene Debs. Socialist Worker, in weighing in on the controversy, declares "We stand with Zinn."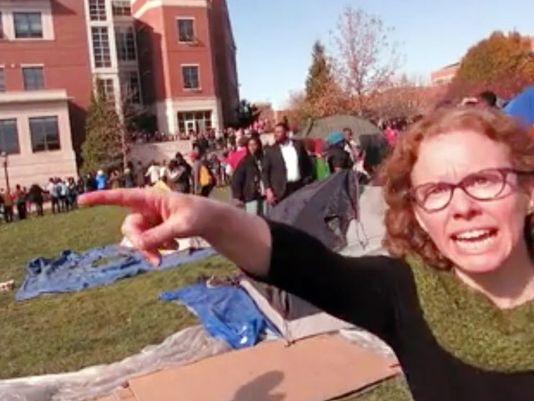 Posted April, 26, 2016, by Mary Grabar: Melissa Click, the fired University of Missouri communications professor, who became notorious for bullying student reporters during last November's protests against still-unspecified racial injustices on campus, continues in her makeover. (See my article "Melissa Click: One Bad Professor Fired, Thousands More to Go" at the Federalist.) She has friends at the Chronicle of Higher Education, who ran a lead feature on her on Monday, titled "Being Melissa Click." The makeover goes beyond the professional photos, with make-up and hairdo, of a smiling, unthreatening professor.
Read more: Updates: Melissa Click, UC-Davis Backfire, Class Action Lawsuit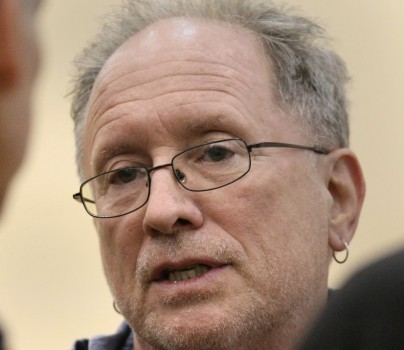 By Mary Grabar, Posted October 11, 2013: Radicals A to Z...In reverse alphabetical order . . . the Howard Zinn read-ins (teach-ins) appeared in National Review's Phi Beta Cons blog.
Send in those entries, please. There are many Howard Zinn lies from which to choose. Let's not let those fellow commie professors go unchallenged on their Howard Zinn "read-in."
Dissident Prof has submitted her name to Elgin Community College as a candidate for speaker to provide an alternate view to that of Bill Ayers who spoke there on September 26. She was told that her name would be presented before the committee last Thursday, but there has been no response to her two emails since. In this video taken after Bill Ayers's talk, Jeff Julian, Executive Director of Communications at Elgin Community College, tells Champion News reporter and editor Lennie Jarrett that he would be willing to bring in a speaker with "opposing viewpoints."
By Mary Grabar, Posted September 27, 2013: Bill Ayers continues to spread his poisonous ideas on college campuses. FrontPage Magazine has my article about his tour and the same old, same old charges by radical college administrators that objections to his visits constitute censorship. No one is censoring Bill Ayers, just saying that he has nothing of value to say. He contradicts himself about being a terrorist--unless you don't think planting bombs is terrorism. Look for the self-serving lies about having been an overly idealistic college student when he did all that and being a dedicated activist, husband, and father afterwards. Not true. Look at the photo: That's a man well into middle age standing on the American flag, and that's a publicity photo for the first memoir Fugitive Days.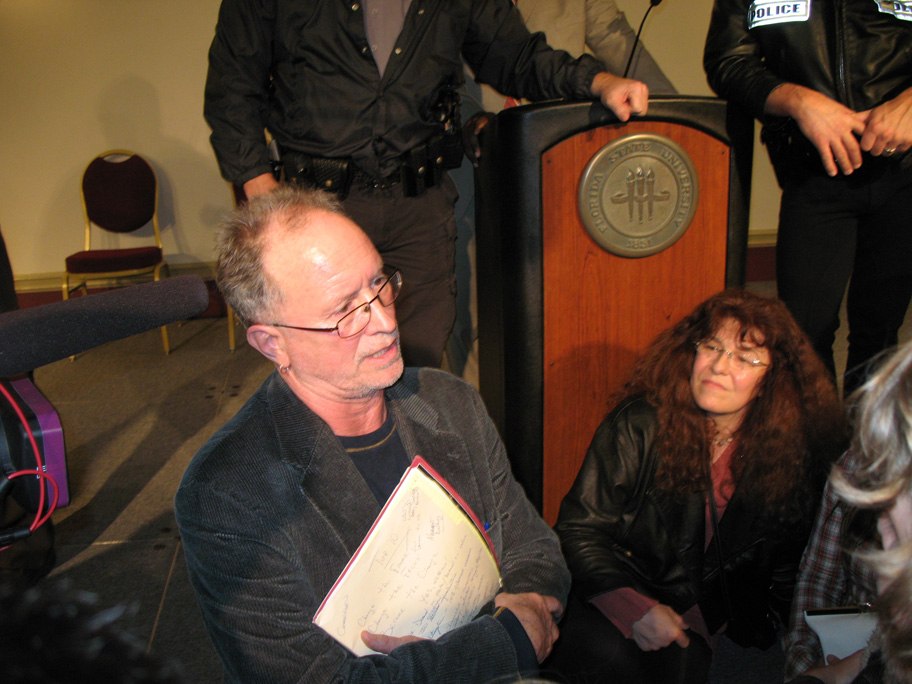 Posted August 29, 2014, by Mary Grabar: Terrorist Professor Non-Emeritus Bill Ayers has been given a spot on the American Association of University Professors' site Academe to proclaim his "solidarity" with Professor Steven Salaita, who after Tweeting vile comments about Israel had his offer of a position in the American Indian Studies Department at the University of Illinois withdrawn by the Board of Trustees. Some of Salaita's horribleTweets are described by George Leef of the Pope Center: "'At this point, if Netanyahu appeared on TV with a necklace made from the teeth of Palestinian children, would anybody be surprised?' Another celebrated the kidnapping of three Israeli teens, who were later found murdered: 'I wish all the (expletive) West Bank settlers would go missing.'" Salaita also wrote that a journalist with whom he disagreed "should get 'the pointy end of a shiv.'"
Read more: Bill Ayers on Freedom of Speech and the Assassination of Robert Kennedy