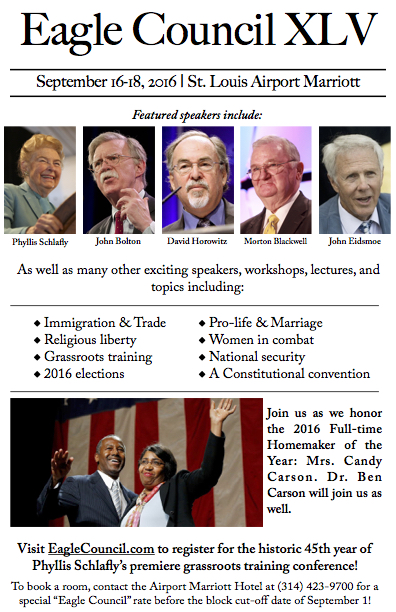 Posted September 2, 2016, by Mary Grabar: I am honored to have been invited to speak at the Eagle Council on September 17, joining such distinguished conservatives as Phyllis Schlafly, John Bolton, Ben Carson, and David Horowitz. The council meets from Friday, September 16, to Sunday, September 18, and is an annual event of Phyllis Schlafly's Eagle Forum.
I will be discussing "Common Core's Effects on Higher Education" on Saturday at 9:30 a.m. It's a topic I've written about extensively for the Selous Foundation for Public Policy Research (on Arne Duncan's legacy of "competency-based education" and "social and emotional learning"; through "free" community colleges, and "K-16" Common Core standards) and at the John William Pope Center for Higher Education Policy ("Common Core is coming to your college")
For a full schedule of speakers and events, please go here. I hope to see you there!