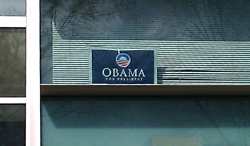 Posted March 25, 2013, by Mary Grabar:Tonight! No April Fool's! The photo you see is from the Kennesaw State University campus, where Dissident Prof will be participating in a panel discussion on April 1 at 7:00 p.m. (1021 Social Science Building). It is free and open to the public (no joke, either). The photo, with the Obama campaign sign in the window, is of the English Department building. Kennesaw State is where a World Literature Conference took place about a year ago. The announcement and call for papers quoted from The Communist Manifesto, and co-director and professor, Khalil Elayan, quoted approvingly from Che Guevara, as I described in my article, "Rallying Around Che at a 'Literary' Conference." (Commies? What Commies?)
Set aside the evening of Monday, April 1, to hear Dissident Prof and colleagues talk about "Intellectual Bias: Do Colleges Discriminate Against Conservatives?"
The Kennesaw State University announcement is here.
Please note: parking is free in West Parking Deck after 6 p.m. Discussion begins at 7 p.m. in the Social Science Building Room 1021.
The topic is particularly appropriate given this recent tortured article in Inside Higher Ed, described in the "most read" column as "White men alienated in higher ed workplace, survey suggests." Do ya' think?
The research turned up in Sandra Miles's dissertation as a sub-study to her main focus: the professional experiences of black women.
Inside Higher Ed reports from the NASPA conference:
"We're all unhappy – apparently that's what equality looks like," [Sandra Miles] said. "Every other group feels discriminated against as well, and when having these conversations with people who are members of these other groups, it's important that you understand that."
The article ends with quotations from participants. The conclusion? You can have both: affirmative action and merit-based employment. So if non-white, non-heterosexual employees push aside white heterosexual men that does not mean that the white men are being discriminated against.... Got it? Good. Then you might have a career in academic administration.
What about discrimination against conservatives in academe? Well, one non-male will be on the panel to tell you about it. The Kennesaw panel will be moderated by Peter Fenton, who teaches in the criminal justice department at Kennesaw State.
My co-panelists are:
Dr. Melvyn Fein, Professor of Sociology, Kennesaw State University, and weekly columnist for the Marietta Daily Journal, is a certified clinical sociologist who holds his doctorate in sociology from the City University of New York. Among his recent books are: Post-Liberalism: The Death of a Dream, The Great Middle Class Revolution, and A Professionalized Society: Our Real Future. Dr. Fein is also editor of The Journal of Public and Professional Sociology. His blog site is professionalized.blogspot.com. He is also founder and executive director of the nonprofit foundation Morality Now! Inc. found at www.moralitynow.net.
Dr. Timothy R. Furnish, consultant to US Special Operations Command and the Intelligence Community on Islamic issues, author of Holiest Wars: Islamic Mahdis, their Jihads and Osama bin Laden, holds a doctorate in Islamic, African and World History (Ohio State). He taught World and Middle Eastern history for seven years and has guest-lectured at venues such as the Army War College, School of Advanced Military Studies, Joint Special Operations University, Defense Institute for Security Assistance Management, Rice University, and the Islamic Centre of England. Furnish also served in the US Army, both enlisted and commissioned.
The latest Dissident Prof book Exiled: Stories from Conservative and Moderate Professors Who Have Been Ridiculed, Ostracized, Marginalized, Demonized, and Frozen Out will be for sale.
Get a preview here at Amazon.
And don't get fooled on April 1. Come to Kennesaw State University.